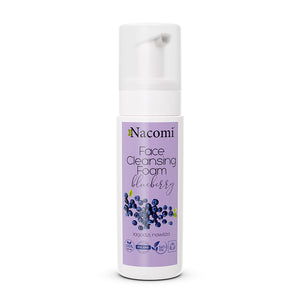 NACOMI FACE CLEANSING FOAM BLUEBERRY 150G is intended for the daily care of dry and sensitive skin prone to irritation, especially after cleansing the face. It can be used both day and night. Contains only plant active ingredients.
HOW TO USE:
Apply a small amount of foam to a damp face and massage in circular motions, avoiding the eye area. Rinse with lukewarm water. You can use the product every day.
ناكومي غسول الوجه الرغوي- توت 150غرام مخصص للعناية اليومية بالبشرة الجافة والحساسة المعرضة للتهيج ، خاصة بعد تنظيف الوجه. يمكن استخدامه ليلاً ونهارًا. يحتوي فقط على مكونات نباتية نشطة.
طريقة الاستخدام:
ضعي كمية صغيرة من الرغوة على وجه رطب ودلكي بحركات دائرية مع تجنب منطقة العين. اشطفيه بالماء الفاتر. يمكنك استخدام المنتج كل يوم.