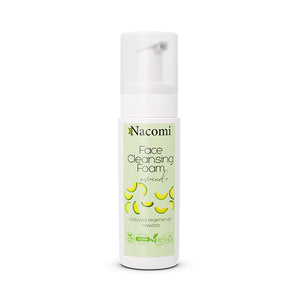 NACOMI FACE CLEANSING FOAM AVOCADO 150G  gently cleanses the skin of the face without causing irritation. Avocado extract has intensively moisturizing, regenerating, firming properties and protects the skin against the harmful effects of external factors. It is rich in vitamins A, B, E, H, K, PP, F, unsaturated fatty acids (EFAs) and amino acids, thanks to which it soothes inflammation and irritation. Nacomi face foam will make your skin cleansed, smooth and deeply moisturized.
HOW TO USE:
Shake before use. Squeeze on your hand and massage into the skin. Rinse with water.
ناكومي غسول الوجه الرغوي- افوكادو 150غرام  ينظف بلطف بشرة الوجه دون التسبب في تهيج. يحتوي مستخلص الأفوكادو على خصائص ترطيب وتجديد وشد مكثف ويحمي البشرة من الآثار الضارة للعوامل الخارجية. إنه غني بالفيتامينات A ، B ، E ، H ، K ، PP ، F ، والأحماض الدهنية غير المشبعة (EFAs) والأحماض الأمينية ، والتي بفضلها تهدئ الالتهاب والتهيج. رغوة الوجه نعومي ستجعل بشرتك نظيفة وناعمة ورطبة بعمق.
طريقة الاستخدام:
هزة قبل الاستخدام. اضغط على يدك وقم بالتدليك على الجلد. يشطف بالماء.