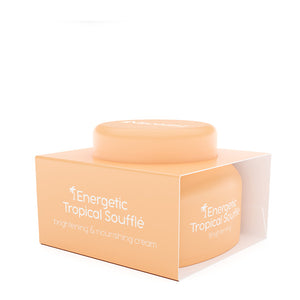 NACOMI ENERGETIC TROPICAL SOUFFLÉ BRIGHTENING AND NOURISHING FACE CREAM 50ML for every skin type care with the problem of dullness and tiredness. Can be used day and night. The richness of active ingredients ensures radiance and glow. Revitalises and stimulates skin. Provides instant glow. Reduces dark spots. Supports the natural lipid barrier. Restores uniform complexion.
HOW TO USE:
Apply a small amount of the cream on the cleansed skin of the face and massage it in gently.
ناكومي كريم مفتح ومغذي للوجه 50مل لكل نوع من أنواع العناية بالبشرة التي تعاني مشاكل من  التعب. يمكن استخدامه ليلا ونهارا. يضمن ثراء المكونات النشطة إشراقًا وتوهجًا. ينشط البشرة ويحفزها. يوفر توهجًا فوريًا. يقلل من البقع الداكنة. يدعم حاجز الدهون الطبيعي. يعيد توحيد لون البشرة.
طريقة الاستخدام:
ضعي كمية قليلة من الكريم على بشرة الوجه بعد تنظيفها وقم بتدليكها برفق.