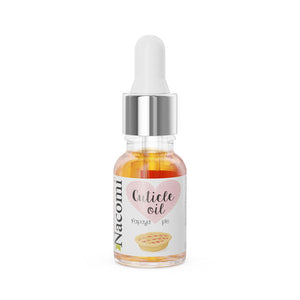 NACOMI CUTICLE OIL - PAPAYA PIE 15ML contains combination of natural ingredients which allows you to smooth and regenerate cuticles and nourish the nails, ensuring a perfect finish of the hand care treatment.
HOW TO USE: 
Using a pipette, apply a drop of the oil to the cuticles around the nail and massage it in.
زيت ناكومي-فطيرة البابايا 15مل يحتوي على مزيج من المكونات الطبيعية التي تسمح لك بتنعيم وتجديد البشرة وتغذية الأظافر ، مما يضمن إنهاءًا مثاليًا لعلاج العناية باليدين.
طريقة الاستخدام:
باستخدام الماصة ، ضع قطرة من الزيت على الجلد المحيط بالظفر وقم بتدليكه.