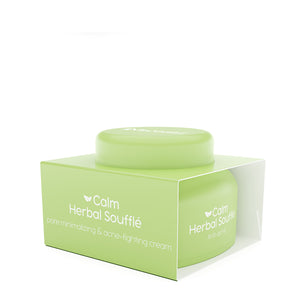 NACOMI CALM HERBAL SOUFFLÉ PORE-MINIMIZING AND ACNE-FIGHTING CREAM 50ML  It is perfect for the care of acne and problematic skin. It has a light, quickly absorbing formula . It instantly soothes irritations, intensively moisturizes and smoothes the epidermis. In addition, it cleans and supports regeneration, helps to reduce discoloration, reduces swelling and reduces acne lesions. In addition, it has anti-inflammatory and antibacterial properties.
HOW TO USE: 
Apply a small amount on clean, dry face and neck. Massage in gently.
ناكومي كريم لتقليل المسام ومحاربة حب الشباب50مل إنه مثالي للعناية بحب الشباب والبشرة التي تعاني من مشاكل. يحتوي على تركيبة خفيفة وسريعة الامتصاص. يهدئ التهيج على الفور ويرطب بشكل مكثف وينعم البشرة. بالإضافة إلى ذلك ، فهو ينظف ويدعم التجدد ، ويساعد على تقليل تغير اللون ، ويقلل من التورم ويقلل من آفات حب الشباب. بالإضافة إلى ذلك ، لها خصائص مضادة للالتهابات ومضادة للجراثيم.
طريقة الاستخدام:
ضعي كمية صغيرة على وجه ورقبة نظيفين وجافين. تدليك بلطف.