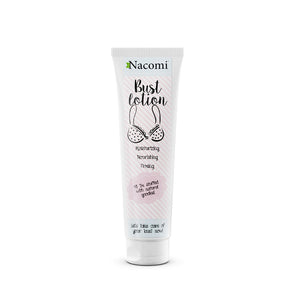 English
NACOMI BUST LOTION- MOISTURIZING AND FIRMING 150ML support your breasts with this bust firming lotion! Get them back into great, young-looking shape with an effective night-time treatment formulated with Vu Sua and Bocoa extracts—two ingredients that form an invisible "natural bra" that instantly help restore firmness and tone to the bust area. Replenishes and helps tighten skin from base of breasts to chin – for a firmer décolleté in one easy bust firming lotion application. Results of the bust firming lotion's effect should improve with continued use of the bust firming lotion.
HOW TO USE:
Apply it gently, in upward circular motions, i.e. starting at the base of the breast, moving around the breasts, all the way to the chest.
ناكومي بست لوشن موستيرايزر اند فايرمنغ 150مل ادعمي ثدييك بهذا المستحضر! أعادهم إلى شكل رائع وشبابي مع علاج فعال ليلي مركب من مستخلصات Vu Sua و Bocoa - وهما مكونان يشكلان "صدرية طبيعية" غير مرئية تساعد على الفور على استعادة تماسك وتناغم منطقة الصدر. يجدد البشرة ويساعدها على شدها من قاعدة الثديين إلى الذقن - للحصول على صدرية مشدودة في تطبيق واحد سهل لشد منطقة الصدر. يجب أن تتحسن نتائج تأثير غسول شد الصدر مع الاستخدام المستمر لوشن شد الصدر.
طريقة الاستخدام:
ضعيه بلطف ، بحركات دائرية صاعدة ، أي بدءاً من قاعدة الثدي ، والتحرك حول الثديين ، وصولاً إلى الصدر.