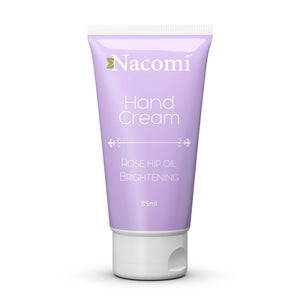 NACOMI BRIGHTENING HAND CREAM 85ML which combines skin brightening effect of rose hip oil with photoprotective properties of vitamin E to give your hands a much younger look. Sweet almond oil is an excellent skin moisturizer and makes your hands wonderfully soft.
HOW TO USE: 
Apply a small amount of cream to your hands and massage into the skin.
ناكومي كريم تفتيح اليدين 85مل الذي يجمع بين تأثير تفتيح البشرة لزيت الورد مع الخصائص الواقية لفيتامين E لمنح يديك مظهرًا أصغر سنًا. زيت اللوز الحلو مرطب ممتاز للبشرة ويجعل يديك ناعمة بشكل رائع.
طريقة الاستخدام:
ضع كمية صغيرة من الكريم على يديك وقم بالتدليك على الجلد.