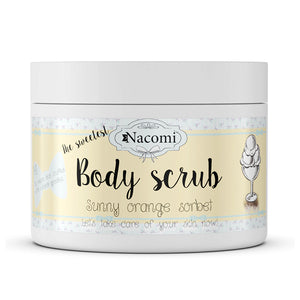 NACOMI BODY SCRUB - SUNNY ORANGE SORBET 200ML get rid of a bad mood with the sweetest orange body scrub to revitalize your skin and lift your spirits. The scrub exfoliates dead skin cells and gives your skin intense hydration. It makes your skin firm and reduces cellulite so feel free to flaunt some skin! After rinsing it off, you don't need another lotion!
HOW TO USE:
Apply the scrub to damp skin and massage until the sugar dissolves, then rinse with water.
ناكومي مقشر الجسم البرتقال المشمش 200مل تخلصي من المزاج السيئ مع أحلى مقشر للجسم بالبرتقال لتنشيط بشرتك ورفع معنوياتك. يقشر المقشر خلايا الجلد الميتة ويمنح بشرتك ترطيبًا مكثفًا. إنه يجعل بشرتك مشدودة ويقلل من السيلوليت لذا لا تتردد في التباهي ببعض البشرة! بعد شطفه ، لن تحتاجي لوشن آخر!
طريقه الاستخدام:
ضعي المقشر على بشرة رطبة ودلكي حتى يذوب السكر ثم اشطفيه بالماء.