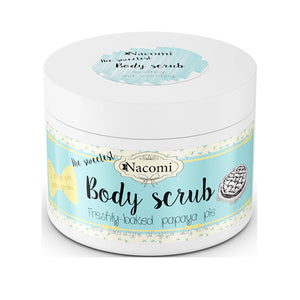 NACOMI BODY SCRUB - FRESHLY BAKED PAPAYA PIE 200ML use some sugar scrub with shea butter and coconut oil after showering to make your skin silky smooth and leave the sweetest fruity scent on your skin. We also added some moisturizing and nourishing Sweet Almond Oil to make your skin look its best. After rinsing it off, you don't need another lotion!
HOW TO USE:
Apply the scrub to damp skin and massage until the sugar dissolves, then rinse with water.
ناكومي مقشر للجسم – فطيرة البابايا الطازجة 200مل استخدمي بعض مقشر السكر مع زبدة الشيا وزيت جوز الهند بعد الاستحمام لتجعل بشرتك ناعمة كالحرير وتترك أفضل رائحة فاكهية على بشرتك. أضفنا أيضًا بعضًا من زيت اللوز الحلو المرطب والمغذي لجعل بشرتك تبدو في أفضل حالاتها. بعد شطفه ، لن تحتاجي لوشن آخر!
طريقة الاستخدام:
ضعي المقشر على بشرة رطبة ودلكي حتى يذوب السكر ثم اشطفيه بالماء.