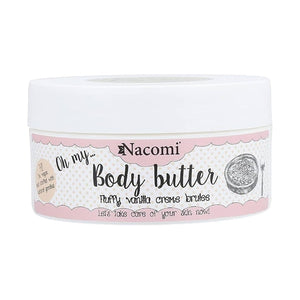 NACOMI BODY BUTTER - VANILLA CRÈME BRULEE 100ML a very mild butter, with moisturizing ingredients such as almond oil. It will leave a sweet vanilla scent on your skin. The butter nourishes the skin leaving it soft and helps prevent stretch marks.
HOW TO USE: 
Apply a small amount of butter on cleansed skin and spread with circular movement.
ناكومي بودي بتر فانيلا كريم برولي 100مل زبدة خفيفة للغاية مع مكونات مرطبة مثل زيت اللوز. سيترك رائحة الفانيليا الحلوة على بشرتك. تغذي الزبدة البشرة وتتركها ناعمة وتساعد على منع ظهور علامات التمدد. 
طريقة الاستخدام:
ضعي كمية قليلة من الزبدة على بشرة نظيفة ووزعيها بحركة دائرية.