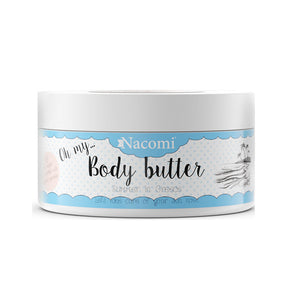 NACOMI BODY BUTTER - SUMMER IN GREECE 100ML it is shea butter with grape seed oil and vitamin E, very deep moisturizing, reduces the clarity of skin imperfections and unifies skin tone, and smells very beautiful.
HOW TO USE:
Gently massage some smooth body butter into your skin.
ناكومي بودي بتر سامر ان جريك 100مل هي زبدة الشيا بزيت بذور العنب وفيتامين E ، ترطيب عميق جدا ، تقلل من نقاء عيوب البشرة وتوحيد لون البشرة ، ورائحتها جميلة جدا.
طريقة الاستخدام:
قم بتدليك بعض زبدة الجسم الناعمة على بشرتك برفق.