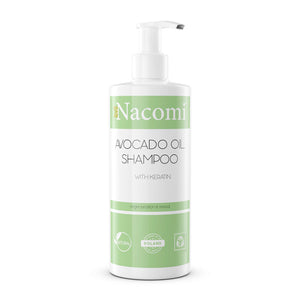 NACOMI AVOCADO OIL SHAMPOO WITH KERATIN 250ML shampoo for dry and brittle hair. It contains gentle cleansing agents. It helps to get rid of excess sebum and the remains of other cosmetics. It has been enriched with beneficial avocado oil and hydrolyzed keratin. It rebuilds the hair structure and creates a protective film on their surface. In addition, it moisturizes, nourishes and smoothes the strands. It does not contain SLS and parabens.
HOW TO USE: 
Shake the shampoo container before use, and then wash the hair with a small amount of shampoo. Rinse your hair thoroughly after washing.
ناكومي شامبو بالاكرتين و زيت الافوكادو 250مل للشعر الجاف والمتقصف. يحتوي على عوامل تنظيف لطيفة. يساعد على التخلص من الدهون الزائدة وبقايا مستحضرات التجميل الأخرى. تم إثرائه بزيت الأفوكادو المفيد والكيراتين المهدرج. يعيد بناء بنية الشعر ويخلق طبقة واقية على سطحه. بالإضافة إلى ذلك ، فهو يرطب ويغذي وينعم الشعر . لا يحتوي على SLS والبارابين.
طريقة الاستخدام:
رجي عبوة الشامبو قبل الاستخدام ، ثم اغسلي الشعر بكمية قليلة من الشامبو. اشطفي شعرك جيدًا بعد غسله.