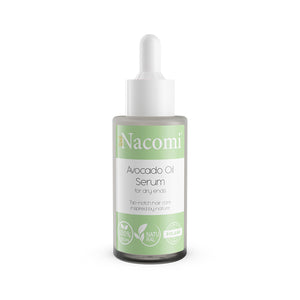 NACOMI AVOCADO OIL SERUM FOR DRY ENDS 40ML avocado oil serum provides hair ends with intense nourishment and conditions them to give them a shiny and healthy look and to prevent split ends. It is also used as a conditioner for dry scalp and to stimulate hair growth.
HOW TO USE: 
After washing, dry your hair with a towel and spray the product evenly at a distance of 15-20 cm and brush the hair.
ناكومي سيروم بزيت الأفوكادو للاطراف الجافه 40مل يوفر لنهايات الشعر تغذية مكثفة ويلطفها لمنحها مظهرًا لامعًا وصحيًا ويمنع تقصف الأطراف. كما أنه يستخدم كبلسم لفروة الرأس الجافة ولتحفيز نمو الشعر.
طريقة الاستخدام:
بعد الغسيل ، جفف شعرك بمنشفة ورش المنتج بالتساوي على مسافة 15-20 سم وقم بتمشيط الشعر.