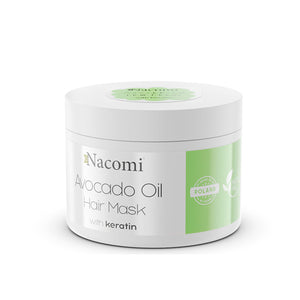 NACOMI AVOCADO OIL HAIR MASK WITH KERATIN 200ML thanks to the high content of vitamins and unsaturated fatty acids, the avocado oil base of this hair mask moisturizes and nourishes dry hair to deep condition your locks. Keratin helps to repair damaged hair and makes combing easier. It provides your hair with benefits such as improved feel and increased shine. 
HOW TO USE: 
Apply after shampooing with well-drained hair. Leave on for 10 minutes and rinse with warm water.
ناكومي ماسك الشعر بزيت الافوكادو و الاكرتين 200مل بفضل المحتوى العالي من الفيتامينات والأحماض الدهنية غير المشبعة ، تعمل قاعدة زيت الأفوكادو فيماسك الشعر هذا على ترطيب وتغذية الشعر الجاف لترطيب خصلات شعرك بعمق. يساعد الكيراتين على إصلاح الشعر التالف ويجعل التمشيط أسهل. يوفر لشعرك فوائد مثل تحسين الإحساس وزيادة اللمعان.
طريقة الاستخدام:
ضعيه بعد غسل الشعر بالشامبو بشعر جيد التصريف. اتركيه لمدة 10 دقائق ثم اشطفيه بالماء الدافئ.