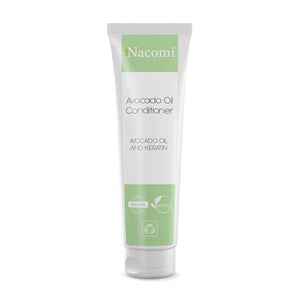 NACOMI AVOCADO OIL CONDITIONER WITH KERATIN 150ML hair conditioner, made with avocado oil and keratin. The product contributes to the smoothing and moisturising of the hair. Results in shiny and tangle-free hair. Does not contain SLS, Paraben . Formula free of silicones and animal raw materials.
HOW TO USE:
Shake the container before use and apply it, massage the conditioner on clean and damp hair and leave on for 2-3 minutes, then rinse with plenty of water.
ناكومي بلسم من زيت الأفوكادو والكيراتين للشعر المصبوغ 150مل يساهم المنتج في تنعيم وترطيب الشعر. ينتج عنه شعر لامع وخالٍ من التشابك. لا يحتوي على SLS و بارابين . تركيبة خالية من السيليكون والمواد الخام الحيوانية.
طريقة الاستخدام:
رجي العبوة قبل الاستخدام وضعيها ، دلكي البلسم على شعر نظيف ورطب واتركيه لمدة 2-3 دقائق ، ثم اشطفيه بالكثير من الماء.