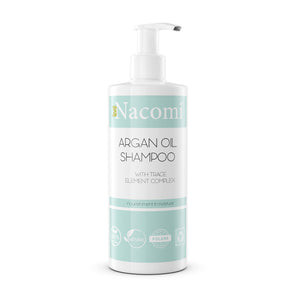 NACOMI ARGAN OIL SHAMPOO WITH TRACE ELEMENT COMPLEX 250ML owing to the content of argan oil, which moisturizes dry hair and restores its natural beauty, the shampoo leaves your locks feeling fresh and nourished. Zinc moisturizes both hair and scalp to prevent flaky skin, whereas copper stimulates hair growth to increase your hair volume.
HOW TO USE: 
 Apply to wet hair and massage into a lather. Rinse thoroughly. If necessary, repeat the process.
ناكومي شامبو زيت الارجان بمركب العناصر النادرة 250مل بفضل محتوى زيت الأرجان ، الذي يرطب الشعر الجاف ويعيد جماله الطبيعي ، يترك الشامبو شعرك منتعشًا ومغذيًا. يرطب الزنك الشعر وفروة الرأس لمنع تقشر الجلد ، بينما يحفز النحاس نمو الشعر لزيادة حجم شعرك.
طريقة الاستخدام:
يوضع على الشعر المبلل ويدلك في رغوة الصابون. شطف جيدا. إذا لزم الأمر ، كرر العملية.