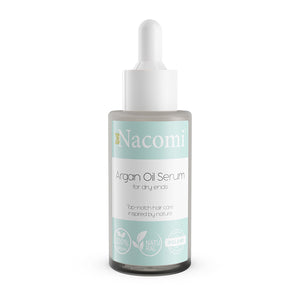 NACOMI ARGAN OIL SERUM FOR DRY ENDS 50ML hair serum for dry ends. Formulated with argan oil that contributes to the intense hydration and nourishment of the hair ends, giving them a healthy look. The rich composition of the oil provides antioxidant properties due to the high content of vitamin E and phenolic compounds. Resultinhg in protection of the structure of the skin and hair. Suitable for hair that requires special care.
HOW TO USE: 
After washing, dry your hair with a towel and spray the product evenly at a distance of 15-20 cm and brush the hair.
ناكومي سيروم الشعر للأطراف الجافة50مل يتكون من زيت الأرجان الذي يساهم في ترطيب وتغذية أطراف الشعر بشكل مكثف ، مما يمنحها مظهرًا صحيًا. توفر التركيبة الغنية للزيت خصائص مضادة للأكسدة بسبب المحتوى العالي من فيتامين هـ والمركبات الفينولية. ينتج عنه حماية بنية الجلد والشعر. مناسب للشعر الذي يتطلب عناية خاصة.
طريقة الاستخدام:
بعد الغسيل ، جفف شعرك بمنشفة ورش المنتج بالتساوي على مسافة 15-20 سم وقم بتمشيط الشعر.