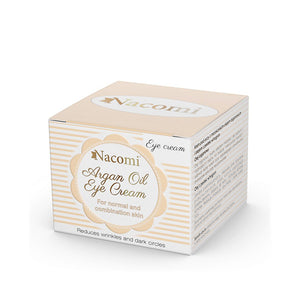 NACOMI ARGAN OIL EYE CREAM WITH GRAPE SEED OIL 15ML effectively moisturizes, smoothes and regenerates the skin prevents the formation of wrinkles without artificial colors and parabens grape seed oil - contains strong antioxidants that prevent skin aging and stimulate cell regeneration. Reduces wrinkles and puffiness around the eyes. shea butter - stimulates cell activity, fights the effects of skin aging and regenerates damaged epidermis. It also has an intensely moisturizing and oiling effect. D-Penthanol - reduces water loss through the skin and ensures its proper hydration.
HOW TO USE:
Gently pat a small amount of cream onto clean skin around your eyes.
ناكومي كريم للعين بزيت بذور العنب 15مل يرطب البشرة وينعمها ويجددها بشكل فعال ويمنع تكوين التجاعيد بدون ألوان صناعية وزيت بذور العنب البارابين - يحتوي على مضادات الأكسدة القوية التي تمنع شيخوخة الجلد وتحفز تجديد الخلايا. يقلل التجاعيد والانتفاخات حول العينين. زبدة الشيا - تحفز نشاط الخلايا وتحارب آثار شيخوخة الجلد وتجدد البشرة التالفة. كما أن له تأثير ترطيب وتزييت مكثف. D-Penthanol - يقلل من فقدان الماء من خلال الجلد ويضمن ترطيبه المناسب.
طريقة الاستخدام:
ضعي كمية صغيرة من الكريم برفق على بشرة نظيفة حول عينيك.