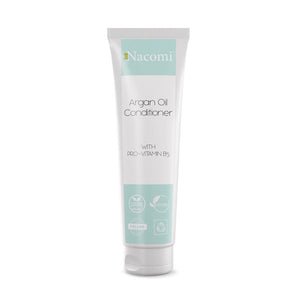 NACOMI ARGAN OIL CONDITIONER WITH PRO-VITAMIN B5 150ML it is intended for weakened hair. It instantly penetrates into the structure of the strands, regenerating them and moisturizing them strongly. It contains argan oil, D-panthenol, glycerin and pro B5 vitamins which protect against harmful external factors, have anti-inflammatory and anti-aging properties and soothe irritation. With regular use, the hair regains its natural glow and is smooth and soft to the touch.
HOW TO USE:
Apply a small amount of product to hair buffers. Leave on for 2-3 minutes and rinse.
ناكومي بلسم زيت ارغان مع فيتامين بي 150مل مخصص للشعر الضعيف. يتغلغل على الفور في بنية الخيوط ويجددها ويرطبها بقوة. يحتوي على زيت الأرغان ، D- بانثينول ، الجلسرين وفيتامينات برو بي 5 التي تحمي من العوامل الخارجية الضارة ، ولها خصائص مضادة للالتهابات ومضادة للشيخوخة وتهدئ التهيج. مع الاستخدام المنتظم ، يستعيد الشعر توهجه الطبيعي ويكون ناعم الملمس.
طريقة الاستخدام:
ضعي كمية صغيرة من المنتج على واقيات الشعر. اتركيه لمدة 2-3 دقائق ثم اشطفيه.