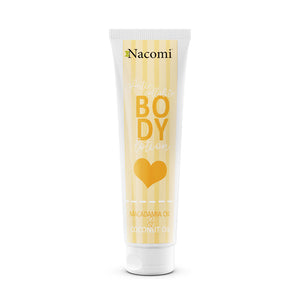 NACOMI ANTI-CELLULITE BODY LOTION - MACADAMIA OIL BASED BODY LOTION 150ML contains macadamia oil with intense firming and nourishing properties. Macadamia oil easily and deeply penetrates the skin stimulating its renewal. Coconut oil moisturises skin and increases its resistance to external factors. Shea butter moisturises, regenerates and fights inflammation. Enhances complexion.
HOW TO USE:
Massage into clean and dry body. Pay special attention to areas affected by cellulite by massaging them. For best results use the lotion 2 times a day.
ناكومي مضاد سيلويت بودي لوشن 150مل يحتوي على زيت المكاديميا مع خصائص شد ومغذية مكثفة. يخترق زيت المكاديميا الجلد بسهولة وعمق ليحفز تجديده. زيت جوز الهند يرطب البشرة ويزيد من مقاومتها للعوامل الخارجية. زبدة الشيا ترطب وتجدد وتحارب الالتهابات. يقوي البشرة.
طريقة الاستخدام:
دلكيه في جسم نظيف وجاف. انتبه بشكل خاص للمناطق المصابة بالسيلوليت عن طريق تدليكها. للحصول على أفضل النتائج ، استخدمي اللوشن مرتين في اليوم.