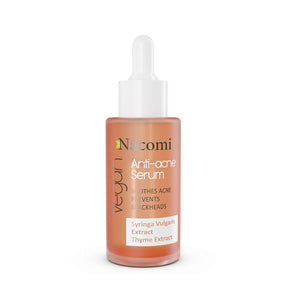 NACOMI ANTI - ACNE FACE SERUM 40ML ideal for skin with blemishes or blackheads.
The basis of this serum is the Asebiol ingredient complex that can help hydrate, regenerate sensitive skin, regulate sebum secretion; has anti-inflammatory properties, reduces blackheads and evens out the tone. It has a light texture and is very pleasant to use. Quickly absorbed and offers immediate relief to irritated skin. 
HOW TO USE:
Apply a small amount of the serum on the face and leave it overnight.
ناكومي سيروم المضاد لحب الشباب 40مل مثالي للبشرة التي تعاني من الشوائب أو الرؤوس السوداء. أساس هذا السيروم هو مركب مكون Asebiol  الذي يمكن أن يساعد في ترطيب وتجديد البشرة الحساسة وتنظيم إفراز الدهون ؛ له خصائص مضادة للالتهابات ، ويقلل من الرؤوس السوداء ويوحد لونها. لها نسيج خفيف وممتع للغاية في الاستخدام. يمتص بسرعة ويوفر راحة فورية للبشرة المتهيجة.
طريقة الاستخدام:
ضعي كمية صغيرة من السيروم على الوجه واتركيها طوال الليل.