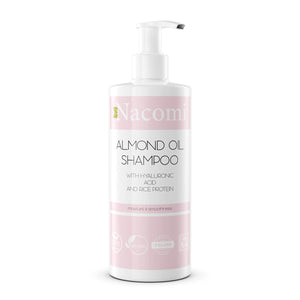 NACOMI ALMOND OIL SHAMPOO WITH HYALURONIC ACID AND RICE PROTEIN 250ML contains Sweet Almond Oil, Hyaluronic Acid, Rice Protein, Coconut Oil, Panthenol and Glycerin. It is perfect fordry and dehyrrated hair . The shampoo is very strongly . Smoothes and softens after application, the strands are cleaned,refreshed as well as strengthened and full of  shine. The product contains delicate cleaning agents, without the addition SLS and SLES. 
HOW TO USE: 
Shake the shampoo container before use, and then wash the hair with a small amount of shampoo. Rinse your hair thoroughly after washing.
ناكومي شامبو زيت اللوز بحمض الهالورونيك و بروتين الارز 250مل يحتوي على زيت اللوز الحلو وحمض الهيالورونيك وبروتين الأرز وزيت جوز الهند والبانثينول والجلسرين. إنه مثالي للشعر الجاف والمجفف. الشامبو قوي جدا. ينعم وينعم بعد التطبيق ، يتم تنظيف الخصل وتجديدها وتقويتها وتملئها باللمعان. يحتوي المنتج على عوامل تنظيف دقيقة ، بدون إضافة SLS و SLES.
طريقة الاستخدام:
رجي عبوة الشامبو قبل الاستخدام ، ثم اغسلي الشعر بكمية قليلة من الشامبو. اشطفي شعرك جيدًا بعد غسله.