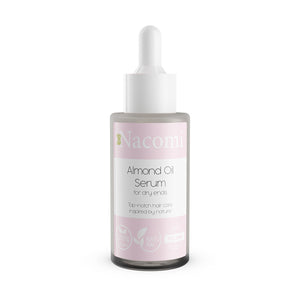 NACOMI ALMOND OIL SERUM FOR DRY ENDS 40ML made with sweet almond oil to protect hair ends, this serum delivers intense nourishment, moisture and strength to damaged hair ends. The ingredients of the serum form a protective film on hair ends to prevent split ends from occurring.
HOW TO USE:
Apply a small amount of our product to your fingertips and rub into the ends of your hair. Let it dry.
ناكومي سيروم زيت اللوز للاطراف الجافه 40مل مصنوع من زيت اللوز الحلو لحماية أطراف الشعر ، ويوفر هذا السيروم تغذية مكثفة ورطوبة وقوة لنهايات الشعر التالفة. تشكل مكونات السيروم طبقة واقية على أطراف الشعر لمنع الأطراف المتقصفة من الحدوث.
طريقة الاستخدام:
ضعي كمية صغيرة من منتجنا على أطراف أصابعك وافركي أطراف شعرك. اتركها تنشف.