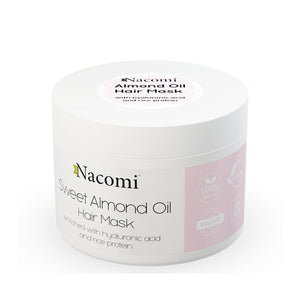 NACOMI ALMOND OIL HAIR MASK WITH HYALURONIC ACID AND RICE PROTEIN 200ML sweet almond oil moisturizes the hair, makes it stronger and restores its beautiful and healthy look. It is high in unsaturated fatty acids and it is a rich source of vitamin E, so it leaves the hair perfectly nourished. Hyaluronic acid combined with rice protein reduces electrostatic charges on the hair, improves hair softness and makes combing easier.
HOW TO USE:
Apply to washed, damp hair, leave for 10-30 minutes. Rinse one after the other. Protect your eyes.
ناكومي ماسك الشعر بزيت اللوز الحلو و حمض الهايلورونيك و بروتين الارز 200مل يرطب الشعر ويجعله أقوى ويعيد له مظهر جميل وصحي. يحتوي على نسبة عالية من الأحماض الدهنية غير المشبعة وهو مصدر غني بفيتامين E ، لذلك فهو يترك الشعر مغذيًا بشكل مثالي. حمض الهيالورونيك مع بروتين الأرز يقلل الشحنات الكهروستاتيكية على الشعر ، ويحسن نعومة الشعر ويجعل التمشيط أسهل.
طريقة الاستخدام:
يوضع على شعر مغسول ورطب ويترك لمدة 10-30 دقيقة. اشطفي واحدة تلو الأخرى. احم عينيك.