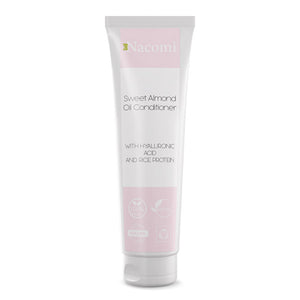 NACOMI ALMOND OIL CONDITIONER WITH HYALURONIC ACID AND RICE PROTEIN 150ML  is a delicate balm with sweet Almond oil that moisturizes and softens the hair giving it a healthy appearance. The D-Pentanol prevents split ends while Glycerin moisturizes it in depth. Ideal to treat dry hair or normal.
HOW TO USE:
Apply a small amount of product to hair buffers. Leave on for 2-3 minutes and rinse. We suggest to combine a shampoo almond.
ناكومي بلسم زيت اللوز بحمض الهايلورونيك و بروتين الارز 150مل بلسم رقيق بزيت اللوز الحلو يرطب الشعر وينعمه ويعطيه مظهرًا صحيًا. يمنع D-Pentanol الأطراف المتقصفة بينما يرطبها الجلسرين بعمق. مثالي لعلاج الشعر الجاف أو العادي.
طريقة الاستخدام:
ضعي كمية صغيرة من المنتج على واقيات الشعر. اتركيه لمدة 2-3 دقائق ثم اشطفيه. نقترح الجمع بين شامبو اللوز.