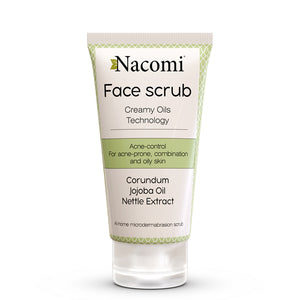 NACOMI ACNE-CONTROL FACE SCRUB 85ML dedicated to people with skin problems. Especially for oily and combination skin and skin prone to blemishes. Nettle and extracts normalize sebum and tone the skin. Nacomi peeling normalizes the skin and cleanses the pores. Helps get rid of dead skin. The skin is better oxygenated. Sweet almond oil smoothes the complexion and unifies the color. It also reduces the visibility of scars. 
HOW TO USE:
apply to wet skin and massage, hold for a few minutes. It is recommended to use it regularly 2-3 times a week.
ناكومي مقشر الوجه للتحكم في الحب مخصص للأشخاص الذين يعانون من مشاكل الجلد. خاصة للبشرة الدهنية والمختلطة والبشرة المعرضة للشوائب. تعمل مستخلصات نبات القراص على تنظيف البشره من الدهون وتوحيد لونها  تقشير ناعم يعمل على تننظيف البشرة والمسام. يساعد على التخلص من الجلد الميت. يكون الجلد مؤكسجًا بشكل أفضل. زيت اللوز الحلو ينعم البشرة ويوحد اللون. كما أنه يقلل من ظهور الندبات.
طريقة الاستخدام:
ضعيه على بشرة مبللة وقم بالتدليك ، انتظري لبضع دقائق. يوصى باستخدامه بانتظام 2-3 مرات في الأسبوع