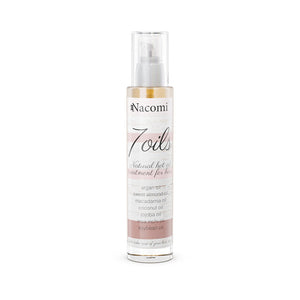 NACOMI 7 OILS HAIR TREATMENT - NATURAL HOT OIL TREATMENT FOR HAIR 100ML 7 virgin oils have been blended together to deeply moisturize and nourish your hair, making it easier to comb and style. The mask provides your locks with heat styling protection. Prevents split ends and reduces electrostatic charges on hair. Treat your hair to the 7 Oils Mask to make it strong, soft and shiny.
HOW TO USE:
Apply the oil to dry hair with your hands to make it look slightly Wet. Wrap your hair in a warm towel and leave it on overnight or for at least 30 minutes, then wash your hair with an SLS-free shampoo.
ناكومي السبع زيوت للعناية بالشعر 100مل تم مزج 7 زيوت عذراء معًا لترطيب وتغذية شعرك بعمق ، مما يجعل من السهل تمشيطه وتصفيفه. يوفر القناع لأقفالك حماية تصفيف الحرارة. يمنع تقصف الأطراف ويقلل الشحنات الكهروستاتيكية على الشعر. عالجي شعرك بماسك الزيوت السبعة لجعله قويًا وناعمًا ولامعًا.
طريقة الاستخدام:
ضعي الزيت على الشعر الجاف بيديك لجعله يبدو رطبًا قليلاً. لفي شعرك بمنشفة دافئة واتركيها طوال الليل أو لمدة 30 دقيقة على الأقل ، ثم اغسلي شعرك بشامبو خالٍ من مادة SLS.