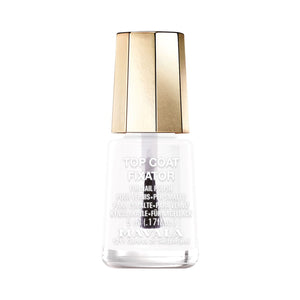 MAVALA TOP COAT FIXATOR 5ML prolongs the life of your manicure by preventing chips and colour fade. Reinforced with Acryl, Top Coat Fixator dries to a hard, elastic glaze and locks in nail colour. Contributing a brilliant shine to nail lacquer this high-performance top coat provides an extra protective shield against colour fading and is chip resistant.

HOW TO USE:
Apply a thin coat of Mavala Basecoat and let it air-dry.
Follow with your favourite Mavala nail polish.
مافالا توب كوت فكسيتور 5مل يطيل عمر مانيكيرك عن طريق منع تلاشي اللون والرقائق. معزز بالأكريل ، يجف Top Coat Fixator للحصول على طلاء زجاجي صلب ومرن ويحافظ على لون الأظافر. يساهم هذا الطلاء العلوي عالي الأداء ، الذي يساهم في لمعان لامع في طلاء الأظافر ، في توفير درع حماية إضافي ضد تلاشي اللون ومقاوم للكسر.
طريقة الاستخدام:
ضع طبقة رقيقة من Mavala Basecoat واتركها تجف في الهواء. اتبعي طلاء أظافر مافالا المفضل لديك.