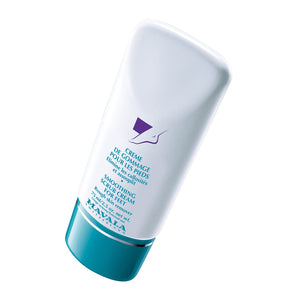 MAVALA SMOOTHING SCRUB CREAM FOR FEET 75ML contains a natural exfoliating powder which act as a light abrasive, leaving the skin of your feet soft and supple. Pleasantly scented.
HOW TO USE:

Apply with a circular massage over the entire foot, paying careful attention to the areas where callouses generally appear (heels, ball of foot). Rinse with warm water.
مافالا سوثنج سكرب كريم للقدم 75مل يحتوي على بودرة تقشير طبيعية تعمل كمادة كاشطة خفيفة ، وتترك بشرة قدميك ناعمة ونضرة. رائحة طيبة.
طريقة الاستخدام:
ضعيه بتدليك دائري على كامل القدم ، مع الانتباه إلى المناطق التي تظهر فيها المسامير بشكل عام (الكعب ، كرة القدم). اشطفه بالماء الدافئ.