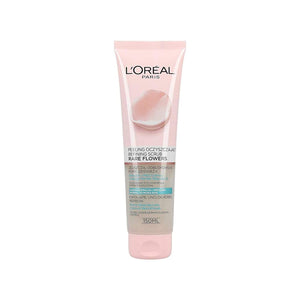 LOREAL FINE FLOWERS PEELING SCRUB FOR NORMAL TO MIXED SKIN
RARE FLOWERS REFINING SCRUB by L'Oréal. Cleansing peeling. Designed for oily or combination skin care. Refreshing formula with two types of mineral pearls effectively removes dead cells and impurities while not drying the skin. In addition, it contains precious rose extracts, known for soothing properties and lotus, which perfectly protects and restores balance. Product tested dermatologically.
Benefits:
-Face peeling.
-It has cleansing and refreshing properties.
-Perfect for oily or combination skin care.
-Removes dead skin.
-Contains lotus and rose extracts.
HOW TO USE:
2-3 times a week apply cosmetic on damp face. Gently massage with circular movements. Rinse with lukewarm water. Avoid the eye area.
لوريال فاين فلورز مقشر منقي للبشرة العادية والمختلطة
مقشر منقي بالزهور النادرة من لوريال. تقشير التطهير. مصمم للعناية بالبشرة الدهنية أو المختلطة. تركيبة منعشة من نوعين من اللآلئ المعدنية تزيل بشكل فعال الخلايا الميتة والشوائب بينما لا تجفف البشرة. بالإضافة إلى ذلك ، فهو يحتوي على مستخلصات الورد النفيسة المعروفة بخصائصها المهدئة واللوتس الذي يحمي ويعيد التوازن بشكل مثالي
المنتج تم اختباره من قبل أطباء الجلدية
:فوائده
تقشير الوجه
لها خصائص مطهرة ومنعشة
مثالي للعناية بالبشرة الدهنية أو المختلطة
يزيل الجلد الميت
يحتوي على مستخلصات اللوتس والورد
:كيف يستعمل
 يستخدم من مرتين لثلاث مرات  في الأسبوع، ضعي مستحضرات التجميل على وجه رطب. دلكي بلطف بحركات دائرية اشطفيه بالماء الفاتر. تجنب منطقة العين