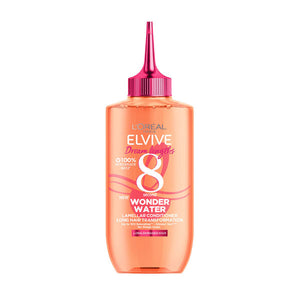 Loreal Elvive Dream Long Wonder Water Conditioner 200ml is a new hair treatment that will transform your hair within 8 seconds. Powered by Lamellar Water Technology, this treatment resurfaces hair fibres and will leave your hair 10 times smoother, silky to touch and a glossy shine to your finish look. It works by adding moisturising agents and amino acids which specifically targe dry, damaged hair.
HOW TO USE:
Use 2-3 times per week after shampooing.
لوريال الفيف بلسم طول الاحلام 200مل هو علاج جديد للشعر يحول شعرك في غضون 8 ثوان. مدعوم بتقنية المياه Lamellar ، يعمل هذا العلاج على تجديد ألياف الشعر ويترك شعرك أكثر نعومة 10 مرات وحريري الملمس ولامعًا لمظهرك النهائي. إنه يعمل عن طريق إضافة عوامل الترطيب والأحماض الأمينية التي تستهدف على وجه التحديد الشعر الجاف والتالف.
طريقة الاستخدام:
استخدم 2-3 مرات في الأسبوع بعد غسل الشعر بالشامبو.