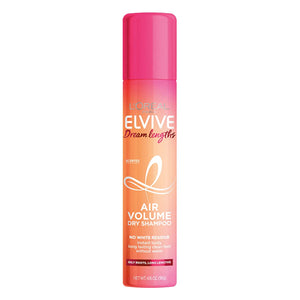 LOREAL ELVIVE DREAM LENGTHS AIR VOLUME DRY SHAMPOO 200ML is the best way to freshen up the hair in between wash days. This dry shampoo will not only give the hair a clean feeling and appearance but also a volume boost. The spray allows for an effortless application and gives the hair a pleasant scent. Moreover, the unique formula with an ultra-cleansing ability will thoroughly clean the hair and without leaving any white residue. With Niacinamide, also known as Vitamin B3, the dry shampoo will increase the body, suppleness, and sheen of the hair for a truly fresh and healthy appearance. Lastly, this dry shampoo, perfect for oily-prone hair types, is effective on long hair and is sure to leave it looking fresh and clean from roots to tips.
HOW TO USE:
Spray L'Oréal Paris Elvive Dream Long Air Volume Dry Shampoo evenly 15 cm away from the hair roots. To ensure an even application and results, apply the product section by section. Then massage into the roots and brush through. For extra volume, back brush or comb the bottom layers of the hair.
لوريال الفيف دريم لينث اير فوليم دراي شامبو 200مل هي أفضل طريقة لتنعش الشعر بين أيام الغسيل. لن يمنح هذا الشامبو الجاف الشعر مظهرًا ومظهرًا نظيفًا فحسب ، بل يمنحه أيضًا زيادة في الحجم. يسمح الرذاذ بتطبيق سهل ويمنح الشعر رائحة لطيفة. علاوة على ذلك ، فإن التركيبة الفريدة التي تتمتع بقدرة فائقة على التطهير ستنظف الشعر تمامًا دون ترك أي بقايا بيضاء. مع Niacinamide ، المعروف أيضًا باسم فيتامين B3 ، سيزيد الشامبو الجاف من الجسم وليونة ولمعان الشعر للحصول على مظهر منعش وصحي حقًا. أخيرًا ، هذا الشامبو الجاف ، المثالي لأنواع الشعر المعرضة للدهون ، فعال على الشعر الطويل ومن المؤكد أنه سيجعله يبدو منتعشًا ونظيفًا من الجذور إلى الأطراف.
طريقة الاستخدام:
رش لوريال الفيف دريم لينث اير فوليم دراي شامبو 200مل بالتساوي على بعد 15 سم من جذور الشعر. لضمان تطبيق ونتائج متساوية ، قم بتطبيق المنتج قسمًا تلو الآخر. ثم دلكيه على الجذور وافركي بالفرشاة. للحصول على حجم إضافي ، مشطي أو مشطي الطبقات السفلية من الشعر.