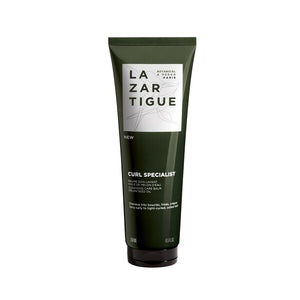 LAZARTIGUE CURL SPECIALIST CLEANSING CARE BALM 30ML is recommended for very curly, kinky, and wavy hair, it leaves the scalp smooth and clean, removing residue from styling products. Its vegan formula is sulfate-free and silicone-free, preventing the hair from becoming fragile and brittle. The Kalahari Desert Melon Seed Oil nourishes and hydrates hair fibers. This cleansing balm creates a fine and delicate foam that leaves the hair clean. Botanical formula with 95% naturally sourced ingredients, vegan, silicone-free, and mineral oil-free.
HOW TO USE:
Apply once a week:
Wet your hair thoroughly.
Warm the treatment in your hands and apply it all over your hair, gently massaging the scalp using your fingertips to create lather.
Rinse thoroughly to remove the product.
Wash again, leaving it on for 5 minutes before rinsing.
بلسم لازارتيج كيرل التخصصي لتنظيف البشرة 30 مل يوصى باستخدامه للشعر المجعد والمتعرج والمموج للغاية ، فهو يترك فروة الرأس ناعمة ونظيفة ، ويزيل البقايا من منتجات التصفيف. تركيبته النباتية خالية من الكبريتات والسيليكون ، مما يمنع الشعر من أن يصبح هشًا وهشًا. يغذي زيت بذور البطيخ الصحراوي كالاهاري ألياف الشعر ويرطبها. يخلق بلسم التنظيف رغوة ناعمة ورقيقة تترك الشعر نظيفًا. تركيبة نباتية تحتوي على 95٪ مكونات من مصادر طبيعية ، نباتية وخالية من السيليكون وخالية من الزيوت المعدنية.
طريقة الاستخدام:
تقدم مرة واحدة في الأسبوع:
-بللي شعرك جيدًا.
-قم بتدفئة العلاج في يديك وقم بتطبيقه على شعرك بالكامل ، وقم بتدليك فروة الرأس بلطف باستخدام أطراف أصابعك لإنشاء رغوة.
-اشطفها جيدًا لإزالة المنتج.
-اغسليها مرة أخرى واتركيها لمدة 5 دقائق قبل شطفها.