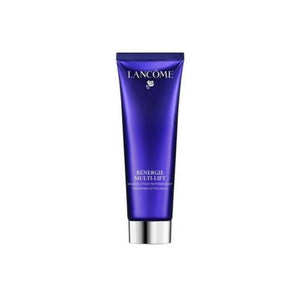 LANCOME RENERGIE MULTI-LIFT ULTRA FIRM MASK 75ML a lifting mask that acts on skin to re-firm its contours that have lost their definition.

Its innovative technology, charged with more than 17% of Beeswax and Carnauba wax, nourishes skin with moisture and helps to improve skin's elasticity and to tighten and firm its feel, beautifying a V-shape face. Skin on the jawline looks refined and feels firmer as if lifted.
لانكوم ملتي لفت ماسك 75مل قناع رفع يعمل على البشرة لإعادة ثبات ملامحها التي فقدت تعريفها. تقنيتها المبتكرة ، المشحونة بأكثر من 17٪ من شمع العسل وشمع الكارنوبا ، تغذي البشرة بالرطوبة وتساعد على تحسين مرونة البشرة وشدها وتثبيتها ، مما يضفي جمالًا على الوجه على شكل حرف V. تبدو البشرة الموجودة على خط الفك مصقولة وتشعر بأنها مشدودة كما لو كانت مرفوعة.