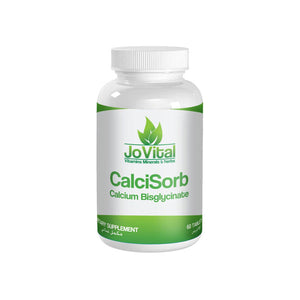 JOVITAL CALCISORB CALCIUM BISGLYCINATE 60 TABLETS New Calcium Tablets, Fortified With Vitamins, Are Easy To Swallow & Do Not Cause Constipation And Do Not Reduce Iron Absorption.
RECOMMENDED FOR :

pregnant women.

Lactating women.

Ladies of hope age.

Elderly.

Those who take cortisone to protect them from osteoporosis & curvature.
HOW TO USE:
For Adults: Take (1) tablet per day preferably with meals.
جوفيتال كالسيسورب بيسجليسينات الكالسيوم 60 قرص أقراص كالسيوم جديدة مدعمة بالفيتامينات سهلة البلع ولا تسبب الإمساك ولا تقلل من امتصاص الحديد. تنصح ل : النساء الحوامل. النساء المرضعات. السيدات في سن انقطاع الطمث. الكبار في السن. الذين يتناولون الكورتيزون لحمايتهم من هشاشة العظام وانحناءها.
طريقة الاستخدام:

للبالغين: تناول (1) قرص يوميًا ويفضل مع الوجبات