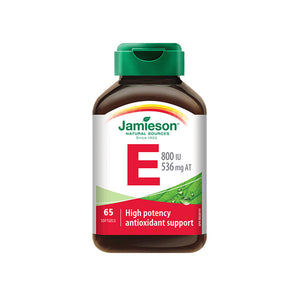 JAMIESON VITAMIN E 800 IU 65 CAPSULES provides antioxidant support to help protect the body from tissue damage and promotes normal red blood cell formation.
HOW TO USE:
Adults: Take 1 softgel daily with a meal. Store between 15°C and 25°C, away from children.
يوفر جاميسون فيتامين إي 800 وحدة دولية 65 كبسولة دعمًا مضادًا للأكسدة للمساعدة في حماية الجسم من تلف الأنسجة وتعزيز تكوين خلايا الدم الحمراء الطبيعية.
طريقة الاستخدام:

للبالغين: تناول كبسولة هلامية واحدة يوميًا مع الوجبة. يحفظ في درجة حرارة بين 15 و 25 درجة مئوية ، بعيدًا عن متناول الأطفال.