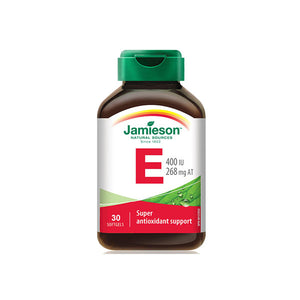 JAMIESON VITAMIN E 400IU 30 SOFTGELS provides antioxidant support in low-potency strength to help protect the body from tissue damage and promotes normal red blood cell formation. Made from d-alpha tocopherol, the natural and most biologically active form of vitamin E.
NO salt, sugar, starch, gluten, lactose, artificial colours, flavours or preservatives.
HOW TO USE:
Take 1 softgel daily with a meal. Store between 15°C and 25°C, away from children.
جاميسون فيتامين اي 400 وحدة دولية 30 كبسولة يوفر دعمًا مضادًا للأكسدة بقوة منخفضة الفعالية للمساعدة في حماية الجسم من تلف الأنسجة وتعزيز تكوين خلايا الدم الحمراء الطبيعية. مصنوع من d-alpha tocopherol ، الشكل الطبيعي والأكثر نشاطًا بيولوجيًا لفيتامين E.
بدون ملح ، سكر ، نشا ، جلوتين ، لاكتوز ، ألوان صناعية ، منكهات أو مواد حافظة.
طريقة الاستخدام:

تناول كبسولة هلامية واحدة يوميًا مع الوجبة. يحفظ في درجة حرارة بين 15 و 25 درجة مئوية ، بعيدًا عن متناول الأطفال.