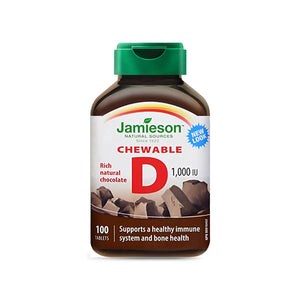 JAMIESON VITAMIN D3 CHEWABLE CHOCOLATE 1000 IU 100 TABLETS is a delicious natural chocolate chewable tablets. Vitamin D3 plays a key role in the maintenance of good health while promoting the development of bones and teeth and helping the body effectively absorb calcium. Vitamin D3 also helps support your immune system. Sweetened with sucralose.
HOW TO USE:
Adults: Take 1 tablet daily with a meal. Store between 15°C and 25°C, away from children. 
جاميسون فيتامين د 3 شوكولاتة قابلة للمضغ 1000 وحدة دولية 100 قرص هي أقراص شوكولاتة طبيعية لذيذة قابلة للمضغ. يلعب فيتامين د 3 دورًا رئيسيًا في الحفاظ على صحة جيدة مع تعزيز نمو العظام والأسنان ومساعدة الجسم على امتصاص الكالسيوم بشكل فعال. يساعد فيتامين د 3 أيضًا في دعم جهاز المناعة لديك. محلى بالسكرالوز.
طريقة الاستخدام:
للبالغين: قرص واحد يوميًا مع الوجبة. يحفظ في درجة حرارة بين 15 و 25 درجة مئوية ، بعيدًا عن متناول الأطفال.