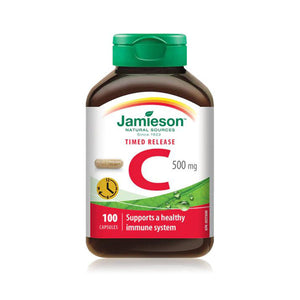 JAMIESON VITAMIN C 500 MG 100 CAPLETS Timed Release provides a gradual release of premium vitamin C for the maintenance of good health. Vitamin C supports immune system function, collagen production, and the absorption of iron from plant-based sources.
HOW TO USE:

Adults: Take 1 to 4 capsules daily. Store between 15°C and 25°C, away from children.
جاميسون فيتامين سي 500 مغ 100 كبسولة بإصدار موقوت يوفر إطلاقًا تدريجيًا لفيتامين سي الممتاز للحفاظ على صحة جيدة. يدعم فيتامين سي وظيفة الجهاز المناعي ، وإنتاج الكولاجين ، وامتصاص الحديد من المصادر النباتية.
طريقة الاستخدام:

للبالغين: 1 إلى 4 كبسولات يوميًا. يحفظ في درجة حرارة بين 15 و 25 درجة مئوية ، بعيدًا عن متناول الأطفال.