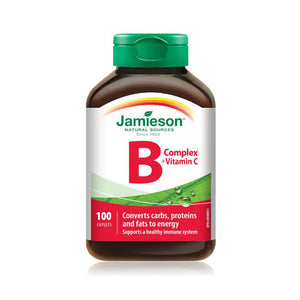 JAMIESON VITAMIN B COMPLEX + VITAMIN C 100 CAPLETS provides essential B vitamins to help convert carbs, proteins, and fats to energy, and 500 mg of vitamin C to help support a healthy immune system.
HOW TO USE:
Adults: Take two caplets daily with a meal. Store between 15°C and 25°C, away from children.
جاميسون فيتامين ب المركب + فيتامين سي 100 قرص توفر فيتامينات ب الأساسية للمساعدة في تحويل الكربوهيدرات والبروتينات والدهون إلى طاقة ، و 500 مجم من فيتامين سي للمساعدة في دعم نظام المناعة الصحي.
طريقة الاستخدام:

للبالغين: تناول كبسولتين يوميًا مع الوجبة. يحفظ في درجة حرارة بين 15 و 25 درجة مئوية ، بعيدًا عن متناول الأطفال.