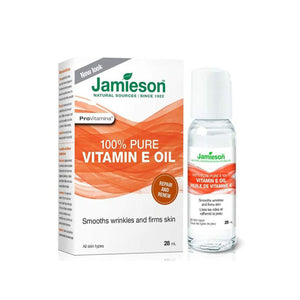 JAMIESON PROVITAMINA 100% PURE VITAMIN E OIL 28 ML is clinically proven to smooth wrinkles and firm skin. It protects against, and alleviates, chapping, cracking and roughness due to dryness.
HOW TO USE:
Apply directly to wrinkles, scars, stretch marks and chapped skin to moisturize and smooth appearance. Use morning and night on freshly cleansed skin.
Excellent for use after hair removal.
For external use only. Avoid contact with eyes.
جاميسون بروفيتامين 100٪ زيت فيتامين إي نقي 28 مل ثبت إكلينيكيًا أنه ينعم التجاعيد ويشد البشرة. يحمي ويخفف من التشقق والخشونة الناتجة عن الجفاف.
طريقة الاستخدام:
ضعيه مباشرة على التجاعيد والندبات وعلامات التمدد والجلد المتشقق لترطيب المظهر وتنعيمه. استخدميه صباحًا ومساءً على بشرة نظيفة حديثًا. ممتاز للاستخدام بعد إزالة الشعر. للاستخدام الخارجي فقط. تجنبي ملامسة العينين.