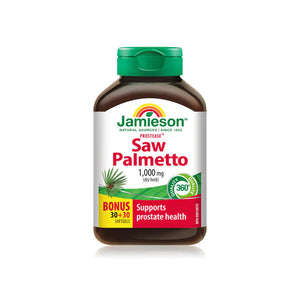 JAMIESON PROSTEASE SAW PALMETTO 60 CAPSULES combines Saw Palmetto with other prostate-healthy compounds to help support healthy prostate function and relieve symptoms associated with benign prostatic hyperplasia such as weak urine flow, incomplete voiding, frequent daytime and night time urination.
HOW TO USE:
Adult men: Take 1 softgel daily with a meal to minimize gastric disturbance. Store between 15°C and 25°C, away from children.
WARNINGS:
Consult a healthcare practitioner prior to use to exclude a diagnosis of prostate cancer. Consult a healthcare practitioner if symptoms persist or worsen.
جاميسون بروستيس سو بالميتو 60 كبسولة تجمع بين البلميط المنشاري والمركبات الصحية الأخرى للبروستات للمساعدة في دعم وظيفة البروستاتا الصحية وتخفيف الأعراض المرتبطة بتضخم البروستاتا الحميد مثل ضعف تدفق البول ، والإفراغ غير الكامل ، والتبول المتكرر ليلاً ونهارًا.
طريقة الاستخدام:

الرجال البالغين: تناول كبسولة هلامية واحدة يوميًا مع الوجبة لتقليل اضطرابات المعدة. يحفظ في درجة حرارة بين 15 و 25 درجة مئوية ، بعيدًا عن متناول الأطفال.
تحذيرات:
استشر ممارس الرعاية الصحية قبل الاستخدام لاستبعاد تشخيص سرطان البروستاتا. استشر ممارس رعاية صحية إذا استمرت الأعراض أو ساءت.