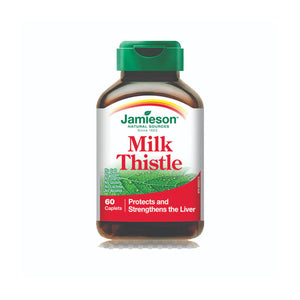 JAMIESON MILK THISTLE 60 CAPSULES is a powerful herbal supplement that helps to protect and support healthy liver function. Milk Thistle is known to help in rebuilding liver cells while removing toxins that are processed through the liver.
HOW TO USE:
Adults: Take 3 caplets daily. Use for a minimum of 3 weeks to see beneficial effects. Store between 15°C and 25°C, away from children.
جاميسون ميلك ثيسل 60 كبسولة هو مكمل عشبي قوي يساعد على حماية ودعم وظائف الكبد الصحية. من المعروف أن شوك الحليب يساعد في إعادة بناء خلايا الكبد مع إزالة السموم التي تتم معالجتها عبر الكبد.
طريقة الاستخدام:

للبالغين: 3 كبسولات يوميا. استخدم لمدة لا تقل عن 3 أسابيع لرؤية الآثار المفيدة. يحفظ في درجة حرارة بين 15 و 25 درجة مئوية ، بعيدًا عن متناول الأطفال.