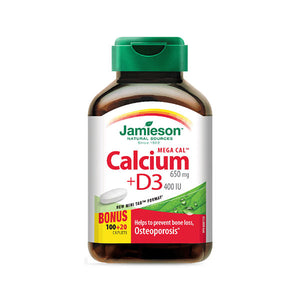 JAMIESON MEGA CAL CALCIUM 650 MG WITH VITAMIN D3 400 IU 120 CAPLETS is enhanced with vitamin D3 for optimal calcium absorption, this high-potency complex of five calcium sources helps to develop and maintain strong bones and teeth, and helps reduce the risk of developing osteoporosis.
HOW TO USE:
Adults: Take 1 to 2 mini-tab daily with a meal. Take a few hours before or after taking other medications. Store between 15ºC and 25ºC, away from children.
جاميسون ميجا كالسيوم 650 مجم مع فيتامين دال 3  400 وحدة دولية 120 قرص معززة بفيتامين دال 3 لامتصاص الكالسيوم الأمثل ، يساعد هذا المركب عالي الفعالية المكون من خمسة مصادر للكالسيوم على تطوير عظام وأسنان قوية والحفاظ عليها ، ويساعد على تقليل خطر الإصابة بهشاشة العظام .
طريقة الاستخدام:

للبالغين: تناول 1 إلى 2 حبة صغيرة يوميًا مع الوجبة. خذ بضع ساعات قبل أو بعد تناول الأدوية الأخرى. يحفظ في درجة حرارة بين 15 و 25 درجة مئوية بعيدا عن متناول الأطفال.