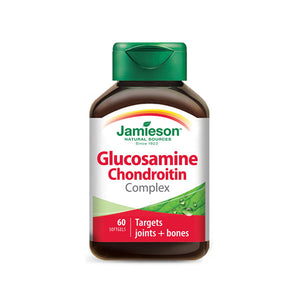 JAMIESON GLUCOSAMINE & CHONDROITIN COMPLEX 60 CAPSULES  help maintain healthy joints and cartilage and relieve joint pain associated with osteoarthritis.
HOW TO USE:
Adults: Take 2 softgels, 3 times daily with a meal. Use for a minimum of 1 month to see beneficial effects. Store between 15°C and 25°C, away from children.
جاميسون جلوكوزامين و كوندرويتين 60 كبسولة تساعد في الحفاظ على صحة المفاصل والغضاريف وتخفيف آلام المفاصل المرتبطة بهشاشة العظام.
طريقة الاستخدامك

للبالغين: 2 كبسولة هلامية 3 مرات يوميًا مع الوجبة. استخدم لمدة لا تقل عن شهر واحد لرؤية الآثار المفيدة. يحفظ في درجة حرارة بين 15 و 25 درجة مئوية ، بعيدًا عن متناول الأطفال.