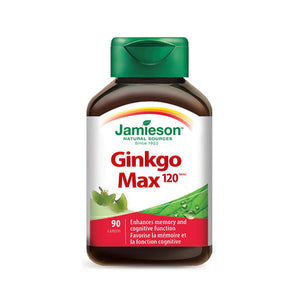 JAMIESON GINKGO MAX 120 MG 90 CAPSULES  is a one-a-day formula that helps improve blood and oxygen circulation to the brain and extremities, and enhances memory and mental sharpness.
HOW TO USE:
Adults: take 4 caplets daily with a meal. Consult a health care practitioner for use beyond 6 weeks. Store between 15C and 25 C. away from children.
جاميسون جينكو ماكس 120 مغ 90 كبسولة هي تركيبة واحدة في اليوم تساعد على تحسين الدورة الدموية والأكسجين في الدماغ والأطراف ، وتعزز الذاكرة والحدة الذهنية.
طريقة الاستخدام:
للبالغين: 4 كبسولات يوميا مع الوجبة. استشر ممارس الرعاية الصحية للاستخدام بعد 6 أسابيع. يحفظ في درجة حرارة بين 15 و 25 درجة مئوية بعيدا عن متناول الأطفال.