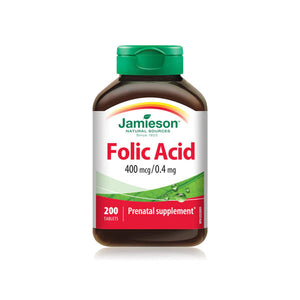 JAMIESON FOLIC ACID 400MCG/0.4MG 200 TABLETS is an essential pre-pregnancy nutrient when planning to conceive. It helps reduce the risk of neural tube defects when taken before or during early pregnancy. Helps product red blood cells. Helps prevent folate deficiency.
HOW TO USE:
Adults: Take 1 tablet daily. Store between 15ºC and 25ºC, away from children.
جاميسون فوليك أسيد 400 مجم / 0.4 مجم 200 قرص هو عنصر غذائي أساسي قبل الحمل عند التخطيط للحمل. يساعد في تقليل مخاطر عيوب الأنبوب العصبي عند تناوله قبل أو أثناء الحمل المبكر. يساعد في إنتاج خلايا الدم الحمراء. يساعد على منع نقص حمض الفوليك.
طريقة الاستخدام:

للبالغين: قرص واحد يوميًا. يحفظ في درجة حرارة بين 15 و 25 درجة مئوية بعيدا عن متناول الأطفال.