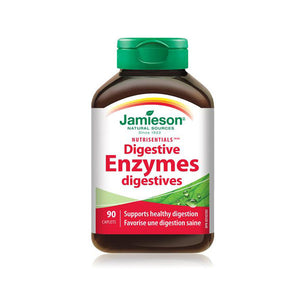 JAMIESON DIGESTIVE ENZYMES 90 CAPSULES full spectrum of digestive enzymes helps digest protein, carbohydrates and fats. Unique formula containing the enzymes papain, bromelain, lipase, amylase, lactase and cellulase. Formulated using plant-sourced enzymes. Vegetarian and Gluten-Free.
HOW TO USE:

Adults: Take 1 caplet 3 times daily with a meal. For prolonged use, consult a health care practitioner. Store between 15°C and 25°C, away from children.
جاميسون إنزيمات الهضم 90 كبسولة طيف كامل من إنزيمات الجهاز الهضمي تساعد على هضم البروتينات والكربوهيدرات والدهون. تركيبة فريدة تدعم الهضم الصحي تحتوي على إنزيمات غراء ، بروميلين ، ليباز ، أميليز ، لاكتاز وسليولاز. تمت صياغته باستخدام إنزيمات من مصادر نباتية. نباتي وخالي من الغلوتين.
طريقة الاستخدام:

للبالغين: تناول قرص واحد ثلاث مرات يوميًا مع الوجبة. للاستخدام المطول ، استشر طبيب الرعاية الصحية. يحفظ في درجة حرارة بين 15 و 25 درجة مئوية ، بعيدًا عن متناول الأطفال.