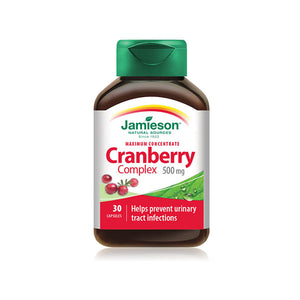 JAMIESON CRANBERRY COMPLEX 500MG 30 CAPSULES is comprised of 450 mg of cranberry and 50 mg of D-Mannose to help treat and prevent urinary tract infections. Each capsule is derived from 500 mg of fresh, pure cranberry juice concentrate. Provides antioxidants for the maintenance of good health.
HOW TO USE:
Adults: Take 1 capsule daily. Use for a minimum of 1 month to see beneficial effects. Store between 15°C and 25°C, away from children.
WARNINGS:
Consult a health care practitioner if symptoms persist or worsen; or prior to use if you have a history of kidney stones or if you are taking blood thinners.
جاميسون كرانبيري كومبلكس 500 مجم 30 كبسولة تتكون من 450 مجم من التوت البري و 50 مجم من D-Mannose للمساعدة في علاج التهابات المسالك البولية والوقاية منها. كل كبسولة مشتقة من 500 مجم من عصير التوت البري النقي المركز. يوفر مضادات الأكسدة للحفاظ على صحة جيدة.
طريقة الاستخدام:

للبالغين: كبسولة واحدة يوميًا. استخدم لمدة لا تقل عن شهر واحد لرؤية الآثار المفيدة. يحفظ في درجة حرارة بين 15 و 25 درجة مئوية ، بعيدًا عن متناول الأطفال.
تحذيرات:
استشر ممارس الرعاية الصحية إذا استمرت الأعراض أو ساءت ؛ أو قبل الاستخدام إذا كان لديك تاريخ من الإصابة بحصوات الكلى أو إذا كنت تتناول أدوية مميعة للدم.