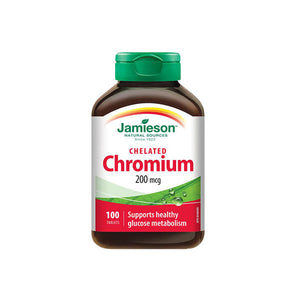 JAMIESON CHELATED CHROMIUM 200 MCG 100 TAB is formulated with vegetable protein for optimal absorption to support healthy glucose metabolism and help metabolize carbohydrates and fats.
Provides support for healthy glucose metabolism
Helps to maintain normal blood glucose levels
Helps to prevent chromium deficiency
Supports the body's ability to metabolize nutrients
HOW TO USE:
Adults: Take 1 tablet daily with a meal. Store between 15°C and 25°C, away from children.
جاميسون كروميوم 200 ميكروغرام 100 قرص مصنوع من بروتين نباتي لامتصاص مثالي لدعم التمثيل الغذائي الصحي للجلوكوز والمساعدة في استقلاب الكربوهيدرات والدهون. يساعد في الحفاظ على مستويات السكر في الدم الطبيعية. يساعد على منع نقص الكروم. يدعم قدرة الجسم على استقلاب العناصر الغذائية.
طريقة الاستخدام:

للبالغين: قرص واحد يوميًا مع الوجبة. يحفظ في درجة حرارة بين 15 و 25 درجة مئوية ، بعيدًا عن متناول الأطفال.